Alloy Steel Seamless Pipes & Tubes
We are well recognized merchant exporters and suppliers of Alloy Steel Seamless Pipes & Tubes. Finding application in varied areas including engineering applications, the offered range of precision engineered alloy steels can be availed in various grades like ASTM A-335, A-387 GR. P1, P5, P9, P11, P12, P22, P91 and others. Its other specifications include:
Size Range: 1/8" - 26"
Schedules: 20, 30, 40, Standard (STD), Extra Heavy (XH), 80, 100, 120, 140, 160, XXH
Alloy Steel contains substantial quantities of elements other than carbon like chromium, silicon, nickel, manganese, molybdenum, tungsten, vanadium as well as limited amounts of other commonly accepted elements like sulphur, manganese, silicon & phosphorous. Addition of these alloying elements is usually done for purpose of increasing hardness, strength as well as chemical resistance of the end product. The details of products include: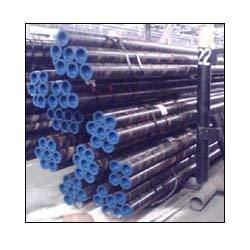 Alloy Steel Pipes (ASTM A335 P11) :

Alloy Steel Pipes (ASTM A335 P11)
Alloy Steel Pipes (ASTM A335 P11) offered by us are made as per IBR standards and are used mainly for boiler operations. We source these seamless pipes in varied size range. Further, we can also get these customized as per boiler piping requirements. For ensuring in them optimum quality standards, we source these from quality manufacturers. We also offer clients of having their own mark on them.