Carbon Steel SAW Pipes
We hold expertise in meeting the demands of carbon steel SAW pipes that are manufactured using high grade raw material so as to provide in the end product flawless finish standards. These carbon steel pipes find application in varied industries like engineering, automotive as well as other industrial applications. The product details include:

Carbon Steel SAW Pipes :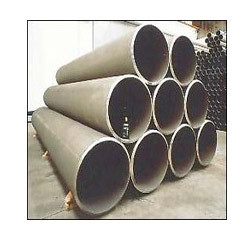 Carbon Steel SAW Pipes
Carbon Steel SAW Pipes as well as Stainless Steel Saw Pipes offered by us are made available in different grades and standards. Some of the standard features these are made available in include Standard (ASTM A691), Construction (EFSW) and Size Range (2"- 24").
Its other specifications include: Schedules:
Schedule S 5, S 10, S 20, S 40, S 60, S XS, S 80, S 100, S 120, S 140, S 160, S XXS
Pipe Type:
Bevelled End (BW)
Plain End Pipe (PE)