Carbon Steel Seamless Pipes
Backed by large scale production unit, we are engaged in stocking as well as exporting of carbon steel pipes, carbon steel tubes, carbon steel welded pipes, electro galvanized steel tubes/pipes and carbon steel welded tubes. These meet the demands of engineering applications. Its other usages include ERW pipes for water, gas & sewerage; water wells and lancing pipes for various automotive & industrial applications and carbon steel tubes for idlers of belt conveyors.
Applications:
Carbon Steel is used in most critical engineering applications as well as in certain applications in automotive sector. In addition, Carbon Steel Pipes comprise of steel for LPG cylinders, corrosion resistant steel, API grade steel, boiler quality steel, critical structural application steel, auto grade steel, precision tubes and medium / high carbon grade steel and others. The details of products offered include: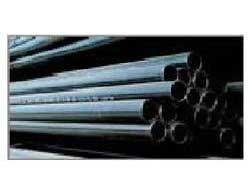 Seamless Pipes (API 5L Gr. X 56 PSL 2) :

Seamless Pipes (API 5L Gr. X 56 PSL 2)
We are one of the leading manufacturers, exporters and suppliers of superior quality of API 5L Gr. X 56 PSL 2 Seamless Pipe, which find application in high demanding industries and sectors, particularly high temperature and corrosive services. Our stainless steel seamless pipes and stainless steel seamless tubes are reliable long lasting and at par with international quality and safety norms.