Carbon Steel Seamless Pipes
Backed by large scale production unit, we are engaged in stocking as well as exporting of carbon steel pipes, carbon steel tubes, carbon steel welded pipes, electro galvanized steel tubes/pipes and carbon steel welded tubes. These meet the demands of engineering applications. Its other usages include ERW pipes for water, gas & sewerage; water wells and lancing pipes for various automotive & industrial applications and carbon steel tubes for idlers of belt conveyors.
Applications:
Carbon Steel is used in most critical engineering applications as well as in certain applications in automotive sector. In addition, Carbon Steel Pipes comprise of steel for LPG cylinders, corrosion resistant steel, API grade steel, boiler quality steel, critical structural application steel, auto grade steel, precision tubes and medium / high carbon grade steel and others. The details of products offered include: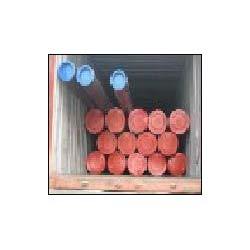 Seamless Steel Pipes (API 5L GR X 42 PSL 2) :

Seamless Steel Pipes (API 5L GR X 42 PSL 2)
Seamless Steel Pipes (API 5L GR X 42 PSL 2) offered by us caters to the demands of different industries. Having large stock of API 5 L Grade X-42 PSL-II SMLS Pipes, we can also deliver these as per the specific finish requirements of different industry sectors. These steel pipes are manufactured using superior quality steel procured by us from certified vendors that also allow us to ensure in these pipes precision dimensions as well as high functionality standards.