Fastneres & Olets


We are exporters of fasteners like alloy steel fasteners, carbon steel fasteners, threaded rods as well as steel threaded fasteners. These are precision designed so as to meet diverse material specification finish demands of our worldwide clientele. Some of the application areas of these fasteners include usage for closing bags, boxes as well as envelopes. Also used for variety of attachment purposes, these can be fastened & unfastened repeatedly. Further, our carbon steel fasteners & alloy steel fasteners are engineered so as to allow articulation rather than affixment.
The available varieties include Bolts, Washers, Nuts, Anchor Fasteners, Eye Bolt, Stud Bolts, Stud, Cotter Pin, Threaded Rod, Socket Screw, Fine Fasteners & Spares, Foundation Fasteners and others.
Some of the available varieties we can make these available in include:
Carbon Steel: Bare Condition, Galvanized, Cadium Plated, Phosphatised, Hot Deep Galvanized, Nickel Chrome Plated, Bloodied and others.
Alloy Steel: 4.6, 5.6, 6.6, 8.8, 10.9 & 12.9 / ''''R'''', ''''S'''', ''''T'''' Conditions.
Stainless Steel : AISI 302, 304, 304L,316, 316L, 310, 317, 317L, 321, 347, 410, 420,904L etc.
Non Ferrous Metal: Brass, Copper, Aluminium, Titanium, Al. Bronze Phosphorous Bronze, Nichrome and others.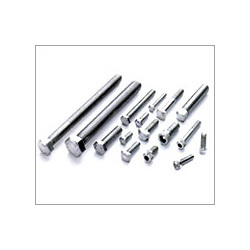 Carbon Steel Fasteners :

Carbon Steel Fasteners

Carbon Steel Fasteners exported by us meets diverse end specifications of our worldwide clientele. These fasteners can find usage for closing bags, box as well as envelopes. Further, our range of fasteners is also used for attachment purposes as these can be fastened and unfastened repeatedly.
Material Specifications:
| | |
| --- | --- |
| Stainless Steel | AISI 302, 304, 304L,316, 316L, 310, 317, 317L, 321, 347, 410, 420,904L etc |
| Carbon Steel | Bare Condition, Galvanized, Phosphatised, Cadium Plated, Hot Deep Galvanized, Bloodied, Nickel Chrome Plated, etc. |
| Alloy Steel | 4.6 , 5.6, 6.6, 8.8, 10.9 & 12.9 / 'R', 'S', 'T' Conditions |
| Non Ferrous Metal | Copper, Brass,Aluminium, Titanium, Nichrome, Al.Bronze Phosphorous Bronze, etc |
Available Types:
| | | |
| --- | --- | --- |
| Bolts | Nuts | Washers |
| Anchor Fasteners | Stud Bolts | Eye Bolt |
| Stud | Threaded Rod | Cotter Pin |
| Socket Screw | Fine Fasteners & Spares | Foundation Fasteners |