Industrial Flanges
We work closely with leading manufacturers of nickel pipe fittings, copper nickel fittings, steel pipe fittings as well as stainless steel butt weld pipe fittings that allow us to successfully maintain a large stock of quality end products. Presently, we are stocking ASP (Alloy Stainless Products) class 150#; 3000# and 6000# threaded as well as socket weld fittings. We also stock stainless steel butt weld pipe fittings as well as flanges of reputed brands that measure up to 24". Their quality finish standards have them meet the specific usage requirements in oil refineries and chemical plants. The product details include: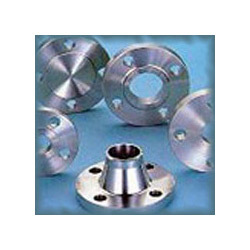 Forged Steel Flanges :

Forged Steel Flanges

Our range of flanges are made available in materials like Stainless Steel, Carbon Steel, Alloy Steel, Tantalum, Titanium, Nickel, Zirconium, Cupro-Nickel, Hastalloy, HR Alloy, Incolloy, Alloy20, Monel, Niobium, Inconel, Nimonics, Super Duplex, Duplex, Copper, Bronze, Bismuth, Brass, Aluminium, Zinc and High Speed Steel. Further, our expertise lies in offering these flanges in both standard and customized specifications as demanded by the customers.