High Nickel Alloys
We are stockists & suppliers of stainless steel with precipitation hardening 17/4PH, duplex as well as super duplex grades. Stocked in large range of shapes and sizes, these can be made available in Austenitic, martensitic and ferritic specifications.
Our stock of engineering steel include nickel alloy pipes, nickel alloys, nickel alloy tubes, carbon steel & alloy steel, copper nickel pipes, key steel, Tantalum, Titanium, Nickel, Zirconium, Cupro - nickel, Hastelloy, HR Alloy, Incolloy, Alloy 20, Inconel, Monel, Stainless Steel, Nimonics, Niobium, Duplex as well as Spring Steel products. Our expertise lies in supplying these as bar, plate, sheet or cut from block. Further, non standard sizes can also be produced in form of steel forgings. The product details include: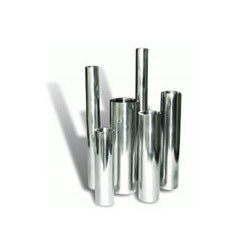 Nickel Pipes :

Nickel Pipes

Nickel Pipes offered by us arte made available in ASTM A 213, A249, A269, A312, A358, A409 grades. The grades that are normally available with us include 304, 304L, 304H, 316, 316L, 316H, 316U, 317, 321, 347, 310, 310s, 904L. Further, we can also custom deliver these as per the specific demands of our customers.