Pipe Fittings
We work closely with leading manufacturers of Pipe Fittings so as to successfully meet the demands of nickel pipe fittings, steel pipe fittings, copper nickel fittings and stainless steel butt weld pipe fittings. We have with us stock of ASP (Alloy Stainless Products) class 150#; 3000# and 6000# threaded as well as socket weld fittings. Further, we also stock stainless steel butt weld pipe fittings as well as reputed brands of stainless steel flanges of up to 24". All this brands are of leading manufacturers of stainless steel & carbon steel flanges that makes offered end products suitable for oil refineries and chemical plants. The product details include:

Elbows :

Elbows

We hold expertise in offering forged, seamless as well as welded elbows (pipe fitting) of types 90° Elbows, 180° Elbow of socket weld, 45° Elbows as well as of threaded type.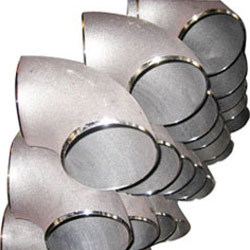 These can be made available in ANSI B 16.5 & BS standards from classes 2000 to 9000 as well as in Schedules from 10 to 160.
Specifications:
Material:
Titanium elbow
Tantalum
Nickel
Cupro – nickel
Zirconium
Hastelloy
Incoloy
HR Alloy
Alloy 20
Monel
Inconel
Stainless Steel
Niobium
Nimonics
Duplex elbow
Super duplex elbow
Classes:
2000 lbs, 3000 lbs, 6000 lbs, 9000 lbs (Forged) S5s, S10, S20, S40, STD, S80, XS, S 160, XXS