Pipe Fittings
We work closely with leading manufacturers of Pipe Fittings so as to successfully meet the demands of nickel pipe fittings, steel pipe fittings, copper nickel fittings and stainless steel butt weld pipe fittings. We have with us stock of ASP (Alloy Stainless Products) class 150#; 3000# and 6000# threaded as well as socket weld fittings. Further, we also stock stainless steel butt weld pipe fittings as well as reputed brands of stainless steel flanges of up to 24". All this brands are of leading manufacturers of stainless steel & carbon steel flanges that makes offered end products suitable for oil refineries and chemical plants. The product details include: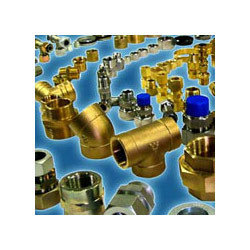 High Nickel Fittings :

High Nickel Fittings

High Nickel Fittings offered by us are made available in a comprehensive range and are widely appreciated by global clients because of their sturdy construction as well as precise dimensions. These high nickel fittings are offered in the grades of ASTM / ASME SB 564 UNS 2200.