High Nickel Alloys
We are stockists & suppliers of stainless steel with precipitation hardening 17/4PH, duplex as well as super duplex grades. Stocked in large range of shapes and sizes, these can be made available in Austenitic, martensitic and ferritic specifications.
Our stock of engineering steel include nickel alloy pipes, nickel alloys, nickel alloy tubes, carbon steel & alloy steel, copper nickel pipes, key steel, Tantalum, Titanium, Nickel, Zirconium, Cupro - nickel, Hastelloy, HR Alloy, Incolloy, Alloy 20, Inconel, Monel, Stainless Steel, Nimonics, Niobium, Duplex as well as Spring Steel products. Our expertise lies in supplying these as bar, plate, sheet or cut from block. Further, non standard sizes can also be produced in form of steel forgings. The product details include: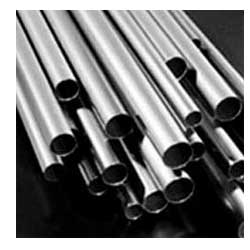 Monel Pipes (R405 UNS N04405) :

Monel Pipes (R405 UNS N04405)

Monel Pipes that we supply has gained tremendous appreciation in the market for their host of qualitative features such as high strength, excellent corrosion resistance and toughness over a wide temperature range. There are useful in oxidizing atmospheres to 1000F. 405 is similar to 400 with sulphur added to improve machinability.